By Advertising and building upon Naruto Cataclysm, it's members will be well rewarded.
Advertisement Thread
Inviting New Members - For every new member you invite, who registers a character and actively participates in the RP you will gain 50 Ryo.
Creative Advertising - By posting this Forum's Advertisement in creative places, sure to draw attention, and not against any rules you will gain 50-100-150 Ryo depending on where it's posted. This is a one-time thing.
Last edited by Raiga Kurai on Tue May 15, 2012 4:24 am; edited 1 time in total
My bad guys, but if you could edit this in instead, I'd appreciate it and add 100 Ryo to what you already get :/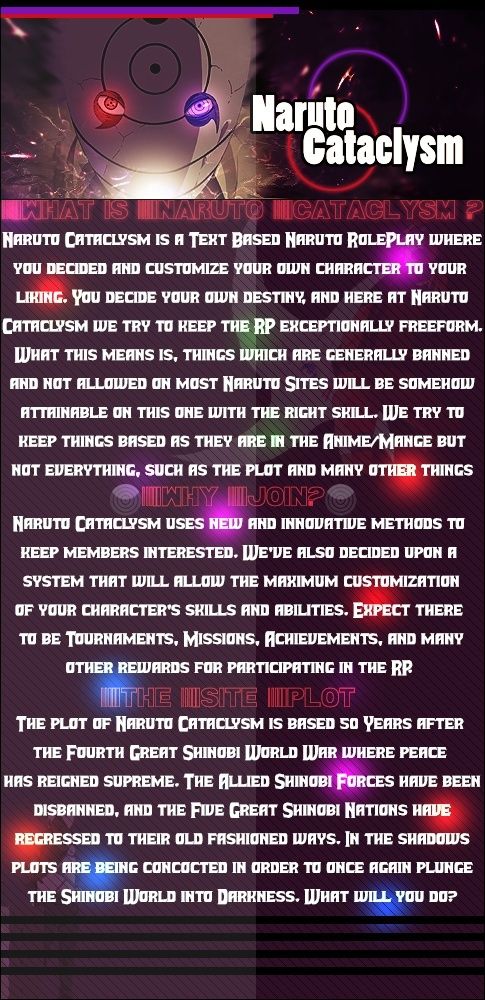 Also, let me hyperlink the Button >_>' I keep forgetting small stuff. But this instead:
Code:


[center][img]http://i41.servimg.com/u/f41/14/61/45/10/ncadve10.jpg[/img][/center]
Code:

[b][center]Our Button[/center][/b]
[center][url=narutocataclysm.forumotion.com][center][img]http://i41.servimg.com/u/f41/14/61/45/10/advert10.png[/img][/center][/url][/center]

Similar topics
---
Permissions in this forum:
You
cannot
reply to topics in this forum