Name:
Masamune
Rank:
Type:
Saejun Katana
Weapon Description: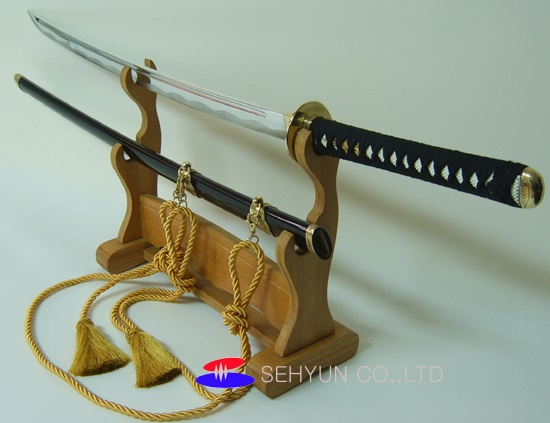 Masamune is a beautiful work of art. It was said to be given to the son of Mifune by the Daimyo as a gift and in memory of his father Mifune. An heirloom to the Mifune family it has been passed down now to Yura.
It's steel was made from the highest qualities, with the secret technique of folded steel for the Samurai Katana. The different impurities of Carbon within the steel make the blade both considerably light yet strong.
The hilt oddly fits Yura considering it's length, having three hand lengths of black wraps with ornate designs on the inside made from oyster shells. The pommel as well as the hilt guard is a gold coating design as the actual material is steel for practical uses. The blade curves slightly as opposed to a traditional samurai katana and has a blade length of 90cms and a deeper groove near the tip. The hilt is beautifully made with a black lacquer golden edges on the scabbards end and mouth as well as a golden attachment for a length of fine rope.
Special Abilities:
Masamune is said to be possessed by a spirit, some say the master forger sealed himself within it to prolong his life akin to immortality. Masamune without the aid of any has the ability to free float around Yura, through its own will or telepathy the blade is able to slash and stab. At current Levels Masamune is unable to move more than 20 meter's away from Yura. Though it has a mind of its own the speed matches that of its wielder Yura. It is a very strong blade able to lift around 150 kgs and apply considerable force matching a beast of a grown man.
Derived Jutsu:
None
Materials Used:
Folded Steel
Last edited by Lady Blue on Sun Jul 19, 2015 5:14 am; edited 2 times in total
So...it does nothing so its a T2. Approved
He'll have to be in your hands for you to use your swordsman techniques, that ok?
hmm, can I preemptively give some Chakra into it so he can spend it? so a preparation.
Spend it how? Do you plan on him being able to use your abilities? That would make this a T4 and you'd have to pay. Remember you can always upgrade your weapons later.
oki doki.
can I at least Chakra coat the thing when it flies around?

Similar topics
---
Permissions in this forum:
You
cannot
reply to topics in this forum