Name:
Nise no jinsei, Gamijutsu (False life, Paper Technique)
Village/Association:
N/A
Clan Description:
The clan specializes in the manipulation of paper materials. They range from your average scroll paper to even harder cardboard. The exact method of how they do this is a hidden technique exclusive to its members and practitioners. However they revolve around using Chakra to not only control but for strengthening to metal like capabilities. Control ranges from having them float around or even folding into various origami figures or even arrow head shaped weapons.  
The paper jutsu has a natural weakness to fire based Jutsu, igniting them and burning them away. The Jutsu also has a weakness towards water making the paper slower and heavier from being soaked. Master practitioners of the art however do not seem to be hindered by your average water jutsu or even flames as seen by Konan when battling Jiraiya. Thick oil however seemed to slow down the paper and prevent it from folding and unfolding.
History:
The hidden technique was first developed and used by Amegakure Shinobi of Akatsuki. Her love and proficiency for origami eventually had it implemented into her own Jutsu. Ranging from shuriken, to clones to out right flying paper control. With her death the art was thought to be lost. However the art was still in rare practice a few devout followers of Konan following her hidden technique. After the Fourth Shinobi world war the last of its practitioners who were primarily Fuuinjutsu practitioners either died or had no heirs to pass the arts down. The art was not completely lost a few people still practice it, however is mostly their own variation.
Special Affiliations:
Yi Yura
Clan Symbol:
An origami flower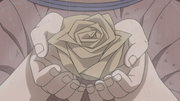 Hiden:
Elemental Affinity:
Paper
Secret Techniques/Jutsu:
Spoiler:
Members
Yi Yura
Last edited by Lady Blue on Sun Jul 19, 2015 5:32 am; edited 2 times in total
Yi Yura (Current and only Practioner) <-- Not really allowing this atm, you can however make a SUB ABILITY that would have you be the only person able to use a special version of this jutsu.
Genin





Posts

: 119


Join date

: 2012-05-07



Edited. Could the Jutsu also be ranked?
_________________
Genin





Posts

: 83


Join date

: 2012-05-14




Similar topics
---
Permissions in this forum:
You
cannot
reply to topics in this forum