Mission:

Reward: 350 Ryo

Name: Catch That Thief
Rank: D-Rank
Issuer: Store Owner in Your Village
Description: Earlier today, a thief decided to rob a local store in your village, and has long since left the scene of the crime, but hasn't gotten far.
Objectives: Track the thief(NPC) and capture them without killing them, and bring them to your Village's prison facility.
Requirements:

1 Topic in your village
1 Defeat and Capture the Robber(NPC)
500 accumulative Words


Danica rushed down towards the gates, the common meeting place before going out on a mission. It seemed that it was going to be just Kuro and her on this one. Shuei and Sensei were busy taking on another mission.  Seeming as it was a Thief, 2 Shinobi should be able to take him out with out and real problem. Danica had Already gotten a Report from the Local Jeweller  who's store had been Broken into.  She  had sent a Messenger to Kuro ahead of time informing him to get ready, they had  to move quick. The Thief would only get Further away.
When Danica arrived at the Gate she pressed her hand to the ground and closed her eyes. It might have seemed odd To Kuro, but it was a Sensory type Jutsu, the earth seemed to pulse once or twice before she could tell where they needed to hea off to. " he  weighs about 170 pounds. And has a Bag with Jewelry in it. to the North.
[WC-170]
[TWC- 170]
The man-beast stood with his arms crossed looking out into the vast expanse outside of the gates of the village, awaiting the arrival of his comrade who had come shortly after he himself had arrived. He had known that this town was having small instances of issues popping up more lately due to the unstable nature commonly found in any civilization, criminals would always be criminals, right? He couldn't say for sure, but he did have a strong bias towards those people who had come to harm people for their own ambitions. He adjusted his hood so that it fell back, his warrior knot dreads tied up in the color of green, that being the same color as the rest of his typical garb. How he owned so many versions of the same outfit, the world would never know.

"A hundred and seventy huh? So it's not going to take much to put him down. I'll follow behind you, when we get near this guy tell me ahead of time." He announced stoically towards his partner, not asking her anything personal this time because it was game-time.

Time to do their job, though it was clear he was going to be doing so later anyway, it all depended on how far away that damn criminal got.

"You sure you're able to use your Taijutsu, this thief is probably not that big of a threat, but I just want to be sure?." He asked her calmly as he flexed his muscles, knowing that when she started to move he'd be right besides her.

Danica Rose to her feet after using her Sensory jutsu, it seemed to have come in handy for these kind of missions." Certainly" Danica responded with, she wiped the sweet from her forehead with her sleeve mentally mapping out where they needed to go. Quickly Danica Motioned to get a move on, she started to Run out the gates  Waving to the guards stationed to it.
"I will determine the situation when we see what he is made of, for now we will treat him as an unknown suspect. Until then we should stick to our Strong suits" Danica said not really answering her question. Danica as soon as they reached the tree line Leaped up and Swung off a branch landing her into the tree tops. She managed to maneuver through the tree tops rather well leaping off branches and Trunks
Danica was wearing  a white dress, it didn't seem to be very efficient for fighting, but she never seemed to have any issues before. She wore a few Kunai at her thigh and along her back where a Large white Bow sat on her tailbone. A large Kukri sat sheathed. She didn't often use weapons be she would have rather have it and not need it then to need it and not have it.  Besides Kuro had his impressive blade no doubt.
After a few minutes or running Danica Stopped landing on a Large branch in a towering tree. She made a Sign with her hand to have Kuro Stop. She placed her palm against the bark of the tree, ~ Chakra Sensory~ Ground Impulse~~ Danica Felt the Motion of someone running on foot, he was no more then 30 meters from the base of the tree. And there was a sloppily designed trap near him.  He must have Expected someone would be sent after him. Which bumped him up on the danger meter, at least to Danica that was.  She Waited until Kuro was standing beside her before speaking in a hushed tone" the target is  27 meters from here. There is a pit fall trap on the far right side, I believe he has made camp. If you keep his attention I can Bind him, then we can Bring him back from there.  Keep in mind our mission is to Detain"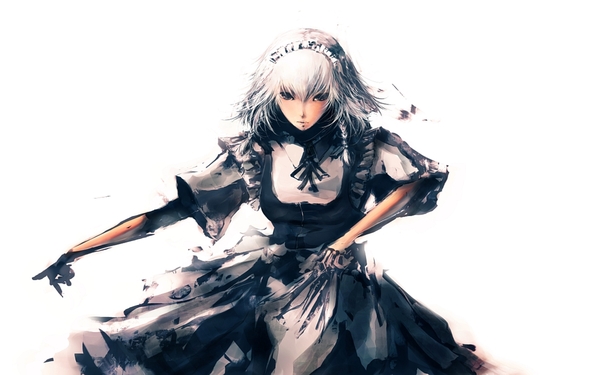 [Wc 392]
[TWC 562]
He nodded at the female slightly and took after her as she started, with a graceful bound upwards his eyes caught a glimpse of that which kept her lady-hood covered, and he felt his nose drip slightly as he kept his same stoic look upon his masculine face. Using his right arm he wiped the blood away and leapt upwards after the rather expedient female warrior, reaching back with his left hand and holding onto the hilt of his massive blade as he kept himself moving forward. He kept pace with her of course, slightly behind her to the left he formed a plan in his own mind that would make sure that he didn't just jump down there and splatter his opponent all over the trees and grass in the area. He rarely cared about if people were harmed during his missions, but he didn't want to let lose his ultimate rage on someone unworthy of his actions.
When they came to a stop he waited to hear what the great tactician had to say to him before acting, hearing her add in a little statement about how they were not supposed to be killing their target. That was fine, nothing in the guidelines prevented maiming, besides, that was going to be the punishment handed down by the authorities anyway. He looked the female over for a moment more, seeing that she did say something about binding this opponent with her abilities. That was more than fine to the tall dark and handsome man. He nodded his head and let his breath be released from his mouth slowly, speaking to her so that she knew he had understood what he meant without it seeming like he was ignoring her suggested plan of attack.
"He will not be killed, I won't use Shibuki."
He was being honest, besides using her defensively he had no reason to unleash splatter upon this would be victim of explosions.
He released the hilt of his rather large blade, it was in it's entirety six feet, the size of a grown man, clearly a monstrous weapon for a monstrous person. The man who only stood five inches taller than his blade shuffled himself for a moment and leapt downwards, pushing off the tree so that he could make his way immediately just outside of the tent constructed by the criminal. Without his sword this opponent had the clear advantage, so he had to rely on his partner in order to help him not get...well..murdered. The thief was quick to react to his arrival, tossing out three shurikan with deadly accuracy, however it detracted from his ferocity due to Kuro simply drawing his blade and deflecting the three projectiles, a clean and fluid swipe that ended with the blade placed back upon his back. The ninja stepped out of his tent, and held in his arm two sharp weapons. Rambling something that Kuro didn't really listen to.
Kuro looked the prey over and clicked his teeth together.
"Stealing isn't an act of evil, fortunately for you. You know, many steal food and other objects to support themselves. I figure you stole this jewelry to sell later, so that you can afford the life-style that you weren't able to have easily as a dignified person. Perhaps you had a run of bad luck in your life, and it is for that reason that I won't judge you to harshly. You didn't hurt the shop lady, but you have shown hostility. I shall tell you this once, lay down your arms and return to Kumogakure, your punishment will be swift."
He was poised an precise with his words, but the man rambled more counter-argumentative statements and conjectures towards the large black man.
Of course, the giant was hardly listening once again.
"No matter the excuse, justice must be delivered. Without rules our society quickly collapses, you violated a rule-"
He reached towards the back of his hip, grasping a kunai and bringing it forward, twirling it.
It was in response to the opposing man dashing forward and unleashing what appeared to be two vertical swipes from his bladed weapons, raising his kunai to block the first hit the second found its way into the genin's arm, but pain was something that didn't exist to the large juggernaut, no-selling the attack with a look of annoyance before he leaned his head back and slammed it directly into his opponent's face. Staggering back the thief twirled his own blades around, speaking more nonsense. Was it some sort of warning? No..a threat? Odd, as if any of that noise actually mattered to Kuro. The beast was tempted to unsheathe his weapon, but recalled what was told to him moments ago. He just had to hold on a bit.
Danica waited for a moment as Kuro leap down, he sure was a Titan among men. She seen the Thief, the size comparison was so different, the Thief tossed out a few Projectiles. But Danica didn't doubt that Kuro could handle that.  But she had to make her move quickly.

Danica pushed off the bark of the tree bouncing of the trunk of one of the other trees, she landed down behind the camp on the side where the pit fall trap was. She was safe to be on that side knowing full well where it was because of her Ground pulse. She waited for a moment, listening as she heard her partner speaking to him.  Getting this man to talk was a great idea.  It provided the time for Danica to focus on her Ninja Art.

She had a plan now, it was an easy thing to do she just needed him to make eye contact with her and she could paralyze him for a moment   Danica waited for her right time  leaning over and picking up a nearby rock she waited her back was against the tree trunk as she watched . The rock was a considerable size it took up her Entire hand. Which sat Flat with her finger spread out just to hold it balanced. She peeked around the side of the Tree trunk to see her Partner. It seemed everything was going to plan. Now all she needed to do was set off the Trap and get the thief to look into her eyes.

She listened to Kuro as he spoke about the rules of Society and how they were important. She knew this was a good time to catch the Rouge off guard. He likely wouldn't have realized there were 2 of them. She Stepped out from behind the tree still out of sight she tossed the smooth stone onto the pit fall trap. It triggered immediately causing the man to look over at what might have trigged it. . Danica quickly rushed out from behind the tree and Locked eyes with the opponent. Her eyes would suddenly shift to a more reddish Shade. She quickly Held her hands out and then quickly Closed her hand making a fist.   It was done. ~ Genjutsu Binding~ The Thief would be unable to move.  The binding would have paralyzed him temporally. She smiled and walked out to spot Kuro could see now: "good job. It seemed like a cake walk " She pulled out a Ninja wire an Went to go put it around the guy. But something nwas wrong the sense of connection was lost.  

Before Danica Would get the wire over him he suddenly Broke free Slashing out at her. The wire was no match for the Wicked Sharp blades and neither was Danica's Forearm.

Blood rushed from her arm as she Clinched the wound tight. It was hard to tell how deep the cut was. And she wasn't going to take the time to look now. She Leaped backwards lining up with Kuro. " I spoke too soon" she said wincing. She hoped that he could hold him off until she was focused enough to attempt a different method.
Almost instantly he recalled when that man...that cloaked man...lashed out at his younger sister. Leaving the rather large mastodon an only child due to his inability to save her. This man was clearly not doing anything that would have made him evil, simply defending himself. But it didn't seem to register to Kuro at all, who was now so foregone in his anger that his face had visibly distorted. His attention to detail had heightened, but he tuned out any outside influences be they speech or any potential threats outside of the man he was focused on. He didn't like feeling as though he couldn't do anything, he hated feeling as though he had just caused his ally to be caused harm, despite the fact that in reality he did in fact have nothing to do with the event itself. He reached back over his shoulder and grabbed the hilt of his blade.

"You're going to regret that." He annoyed in a far more serious tone, a rigid and broken tone that gave away his mood to his partner.

Pressing his foot into the ground slightly and moving his leg in a sweeping movement he held his blade outwards ahead of himself and turned the blade entirely. With a single bound he swung his massive blade right into the pair from the thief in front of him. Sending the man backwards for a moment before the two huffed in unison and clashed with one another. The wraps that were typically placed on his blade were gone now, though he didn't break his promise entirely, as a simple blast from his blade was enough to kill his opponent easily, he instead used the bladed end. Using it efficiently to clash against this opponent. Whatever plan the female had, she had to do it on her own, Kuro was busy dueling a man who was far beneath him in skill, it was clear Kuro was holding back. When the man looked away for a brief moment he found himself with a massive slash down the chest, bleeding out profusely.

"Focus on me spare, or you'll die." His voice was lifeless, like some sort of suit of armor.


Danica Stood there the blood Seemed to keep Rushing from her arm. With Kuro fighting off this man she made an attempt to see the damage done. The gash was a thin cut that went about half an inch deep luckily it didn't hit a bone, or a tendon, she wasn't sure how well she would heal from that.

Danica Watched as her titan like Companion as he charged down the man and quickly Remember the mission " Don't kill him" She Yelled out, still clutching her arm. She didn't know if she really cared if he killed him or if she just didn't want to lose the money. Quickly she wondered if she might still get half the Reward for bring back a body. She quickly shook her head that wasn't a thing a Kunoichi should think

Danica Still holding her arm Dashed in, her focus was back, she quickly Held her hurt arm out in front of her. She was upping the game and moving onto a more complex Fuuinjutsu. Her palm on her injured arm seemed to gain a Seal as she rushed down towards the downed Thief. She didn't think Kuro would Strike again if Danica was in on the Fight. She Dove forwards Rolling in to the thief's side while he was stunned. She knew it was the time to act, or the mission would be over. Kuro seemed quite protective which Danica didn't see as a bad Trait. After all he did tell her he was quick to anger as well and she knew the reason he was being so harsh was because he cared.

Danica's palm launched out at the man's chest. He was Still shocked by the Large gash that had opened up his chest. Man's Blood soaked body was in a Seated position his weapons Scattered on the ground near him. Clearly he wasn't expecting such force, that same force that Danica was surprised to see.

Danica's Palm Touched the man's ribs, the Mark Seemed to Transfer to him she Quickly Ducked back and Retreated to a Safe distance holding her Injured arm up she made the Sign of the fox. Suddenly the man would find himself unable to move. It was unlikely that in his condition now he was going to be able to put up the fight
After the Self-Cursing Seal Jutsu had sealed she Fell backwards landing on the ground. This had been the first time she had really been injured on the battle Field. And it didn't feel good, even when Fighting off the two missing Ninja before she hadn't been hit. Their advantages were from far away. And so was Danica's the fact that she had gotten so close a second time surprised her, she was Braver then she originally though. Even from a seated position she took a deep breath and smiled " I think I got him, your turn to Subdue him. " she Said Moving her left hand

[WC More then done]
He looked at the man who wasn't able to move any more and he stood perfectly still, eyes narrowed he looked over his partner almost immediately afterwards and then thrust his blade forward, because it was flat and unable to stab objects it was nothing more than a metal slab that was thick enough to leave a pole-like bruise on the face of this criminal. The strength and accuracy in which the shinobi slammed his blade into the face of the son-of-a-bitch was enough to knock the man out completely. He would then hoist the blade over his shoulder and walked forward, kneeling down and lifting the rag-doll like man over his shoulder, arm tucked underneath the man's bum.

"I'm sorry, if I wasn't so sloppy he wouldn't of had the chance to strike you." He still sounded highly irritated, but it was clear that he was irritated with solely himself and not the female or the opposing force.

He was ready to leave and looked at the female so that she knew this. He was going to follow behind her once again, though he was no longer going to be saying anything due to the fact that he himself felt extremely...overwhelmed...by this mission. He was used to ending missions in a flash, typically in a bloody explosion. Tasks like this...they were far more delicate. Far too beneath his moral factor. He didn't actually appreciate having to spare this man, he felt even worse that he wasn't able to avenge his comrade properly. But he also figured that his mindset was actually unfair to the person that he was caring so much about at this time. She was a big girl and could handle the incidents that played out before her. So he had to clam down. He took a deep breath an exhaled loudly as he spoke again, trying to change the tone of the task.

"Umm, regardless good job out there. Perhaps we can learn some new maneuvers to handle these tasks in a way that compliments both of our unique play-styles. I am positive that we can come up with some good combinations, let's turn this bastard in." He nodded his head and showed her a full smile, knowing that he was stronger than what had befell him.


My own Recklessness and under estimating my enemy was the cause of my wound is no others fault but my own" she said reaching up and pulling a ribbon from her hair letting it down messy. She tied it over her wound and tied it over it tightly. It angered her slightly that he felt Responsible. "you did well, I told you not to kill him and you didn't. You held up your side of the Plan."

Danica slowly made her way to her feet she let out a deep breath and walked over to the weapons that laid in the dirt. She looked at the camp site and sighed, she wasn't sure she could leave it like this. She Held up a hand to Kuro, her index finger pointed out "one minute "she said with another sigh. She walked down to the pit fall trap and leaned down slumping onto the edge of it as she suddenly dropped in. With a few groans she pulled the few sloppily made wooden spikes from the ground and tossed them out of the hole. She held the edge of the pit fall trap and lifted herself out despite her injury. If anything she was stubborn, Danica stood there for a moment before going over to his tent and wrecking it tossing it in to the hole, she made sure to kick a bit of dirt on it, she Smirked and stomped out what little it of his fire Remained. She then gathered the thief's weapons that had fallen on the ground after that vicious blow from kuro.

She held them out looking at them she started to walk along the forest floor this time not so much in a rush on the way back " I don't mean to be so rude" she said, as an half-assed apology, Danica walked along quietly looking at the Beautiful Tress they had rushed past on the way there, She didn't seem to walk very fast as she listened to the sound of the forest. The only Sound that didn't seem to belong was her foot steps that she didn't bother to attempt to mask. " we do need more practise" she stated breaking the silence of the forest.

Danica Didn't say anything else on the walk back to Kumo. As they went through the gate she offered a wave at the gate keepers and turned to the right to guide the Prisoner back to their holding Cell. After that was all settled up and the Criminal was handed over Danica offered to take the Jewelry back to the Store. Danica Stopped with the small bag of Jewelry outside of the prison waiting for Kuro to come out.

She Glanced at the colossal man her eyes had returned to its Regular purple and she seemed almost apologetic. " Thanks for having my back " she said With a wave, " Until the next time Kuro Sleep Well we have Training tomorrow morning" She said turning and walking off towards the Market District. Her arm still hurt but she didn't care that much right now, she would return the Jewlery and make her way home to soak her arm and clean her cloths if they were somehow able to be white again would be a miracle
[EXIT]
"

[Mission Finished and completed]


Similar topics
---
Permissions in this forum:
You
cannot
reply to topics in this forum