Character Application~
General Character Info~

Name:
Danica Tem'Naka
Age:
18 and a Half
Gender:
Female
Race:
Human
Clan:
None
Bloodline:
None
Kekkei Genkai Element:
None
Affinity:
Earth
Other Elements:
None
Character Database~

Rank:
Genin
Village:
Kumo
-Afflictions/Groups:
Ration Core
Occupation:
 Cafeteria Working in Ration Core
Ninja Registration (5 Numbers):
00114
Classes:
Illusionist ~
Sensor~
Fuuinjutsu Specialist~
Jutsu:
Jutsu(1): Sly Mind Affect Technique C Ranked
Jutsu(2): Genjutsu ~Binding~
Jutsu(3): Crimson Leaf Dream
Jutsu(4): Self-Cursing Seal
Jutsu(5): Chakra Sensory~ Ground Impulse~
Weaponry:
Weapon(1): Throwing knives
Weapon(2): Kukri
Weapon(3):
Weapon(4):
Weapon(5):
Nindo (Fighting Styles)
Chakra:
Practitioner


Ninjutsu: Practitioner

Taijutsu: Practitioner

Genjutsu: Expert

Speed:
Practitioner
Strength:
Practitioner
Intelligence:
Master
Agility:
Practitioner
Appearance Information~

Picture/Description: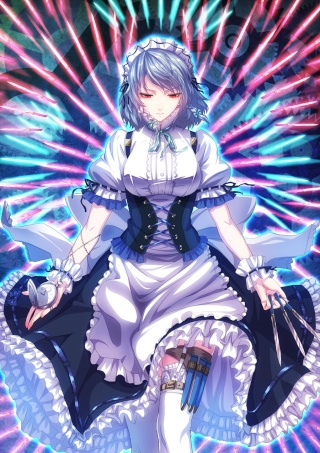 Height:
5'10
Weight:
None of your Business (128)
Blood Type:
O+
Personality Information~

Personality Description:
Danica is a quick thinking often always lost in thought unless on the job or in the battle field. She can be seen as Air headed at times but be assure you that she just has a lot on her mind. Danica is always ready for a Battle and if not very often caught off guard.
Danica is often rather quiet but wants people to listen when she talks. She often forgets other people aren't as smart, or as civilized as her and as a result tends to come off as insulting or rude at times. But Getting her to apologize is like pulling teeth
Likes:
Coffee~
Cats~
Good conversations~
Challenging battles~
Being part of a team~
Dislikes:
Being alone~
People with a sense of entitlement ~
Hopeless romantics~
Deserters~
Hobby:
Reading~
Learning~
Fishing~
Cooking~
Testing New Jutsu's~
Special Skill:
Danica is a Tactician at heart and tends to be a strong group leader and Organizer
History:
Danica grew up in a small settlement in the Land of tea, her mother was goldsmith and her father worked as a Fishermen and a Wood splitter to get materials for her mother.  Because of this her Father wasn't often around and when her Twin brother that she never seemed to see eye to eye with was old enough he started helping out too.  Danica felt she was always looked down on for not being a son and able to work to help support the family. Danica was more of a thinker anyways, she often suggested idea's for her mom but was turned down because of her age.  It wasn't often that Danica felt she was listened too. The alley cat Seemed to be her only friend growing up until the day it stopped coming to see her. It was a sad day in her life and she realized how Truly Lonely she was.  When she was 14  fate seemed to paly into her palm as her mother Was offered a full time position as a lead Goldsmith for a shop in Kumo. And Danica's father Became a Trader, as he had a trade route from Iwa to Kumo bring precious metals over to the Cloud village.   Danica soon found her way into a Raition Core as a Server and Cafeteria cook. Something she had loved to do most of her life.  It wasn't until she overheard someone talking about Shinobi that protected the village and how much they respected them. Danica's mind lit up with ideas of becoming a Kunoichi and that lead her on her path today,
Danica After much convincing Danica was allowed to Enroll in the Academy. It only took her 2 years to Graduate to become a Genin.  It was tough but she didn't have any issues with the book work. It was Physical Combat That Danica struggled with. When Danica was sent out with her team it seemed like a Regular day, they were off to do escort mission and it ended in Failure. As one of her Team mates Defected and Ran away leaving her short handed and during the night a Rouge ninja invaded the Caravan and put her other team mate in a Critical state.  With the mission in utter Failure Danica Carried her injured and mangled team mate back to the village for treatment. Knowing she was going to be in trouble she started to doubt  her life goals and the path she had chosen.  Danica was Nauseous  as she waited to be called into the Raikage's  office, she knew she was  going to be suspended or exiled.  But to her Surprise she was told she didn't do anything wrong and was reassigned to another Squad.
A bit excited and a lot Relived Danica went to meet her new team mates. Who had recently had one of their members fall ill and was unable to continue as a Genin. It was a sad thing to hear about it but it seemed that fate had intervened again and helped her back up when she was down.
Last edited by Danica on Sun Jul 05, 2015 12:10 pm; edited 1 time in total
Genin





Posts

: 50


Join date

: 2015-07-05



Genin





Posts

: 109


Join date

: 2015-06-26



Genin





Posts

: 50


Join date

: 2015-07-05



Genin





Posts

: 109


Join date

: 2015-06-26




Similar topics
---
Permissions in this forum:
You
cannot
reply to topics in this forum