General Character Info~
(This is where the most basic of your character's information resides.)
Name:
Lita Seffer/ Hyūga  
Age:
20
Gender:
Female
Race:
Human
Clan:
Hyūga Clan
Bloodline:
Byakugan
Kekkei Genkai Element:
N/A
Affinity:
Wind
Other Elements:
N/A
Character Database~

Rank:
Genin
Village
Konohagakure
-Affiliations/Groups:
N/A
Occupation:
Medical Ninja
Ninja Registration
(5 Numbers):
11249
Classes:
Medical Shinobi ~
Taijutsu  Specialist~
Jutsu:
Jutsu(1): Healing Technique
Jutsu(2): Chakra Scalpel  
Jutsu(3):  Palm Bottom
Jutsu(4): Gentle Fist
Jutsu(5): Gentle Fist: Tenketsu Needle
Weaponry:

Weapon(1): Kunai
Weapon(2): Her Mothers Katana (Custom)
Weapon(3): N/A
Weapon(4): N/A
Weapon(5): N/A
Nindo
Chakra:
Practitioner
Ninjutsu:
Practitioner
Taijutsu:
Expert
Genjutsu:
Practitioner
Speed:
Practitioner
Strength:
Practitioner
Intelligence:
Practitioner
Agility:
practitioner
Appearance Information~
(What your character looks like.)
Picture/Description: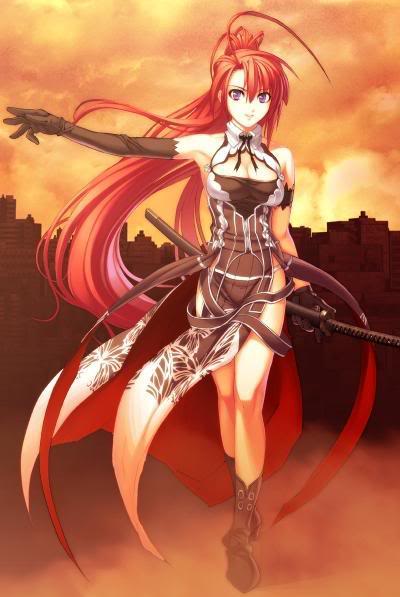 - lita is an almost sickly pale, but is rather healthy. she had long Tailbone long Red hair that she often keep tired in a pony tail. she has Violet eyes that is unusual for a Hyuga, but is still gifted the same effect. Lita often is seen wearing long Black gloves. made from a silk material and a matching back dress, she is frequently seen with a Sword at her side, but has never Drawn it out.  Lita's forehead protector is placed loosely around her neck like a necklace.
Weight:
130Lbs
Blood Type:
O-
Personality Information~
(What your character acts like.)
Personality Description:
Lita is a Passive Kunoichi never really taking a battle to an Enemy unless instructed to do so. Lita is a Kind hearted person but because of her passive nature can be easily influenced at times. She has a decent sense of humor and enjoys spending time with her friends/team. But struggles to often make friends due to how wishy washy she can be, never making a Solid Decision about anything in her own life. Has resulted in her being a push over to almost  all the Other Hyūga but despite that Lita Strives Daily to becomes a stronger Kunoichi and to be one day be the  head of the Medical Core  Lita has a good understanding in what she is capable of and despite her
Likes:
Lita enjoys having a nice cup of coffee at almost any point in a day (Even right before bed) Lita Loves helping people out and her Time spend at the medical Core.
Dislikes
:
Lita doesn't like overconfident people. She refuses to talk to people that are rude. And Fears being buried alive.
Hobby:
Lita's hobbies are Training (most likely a Learned Feat), cooking, and Tailoring Helping the sick.
Special Skill
:
Is an Incredible cook
History:
Lita's Mother Rose Seffer Married into the Hyūga family, her father( Sadko Hyūga) was a very busy man always running out to handle Clan Related business and to run missions in any other waking moment. It seemed that even when Lita was born he wasn't much of a father figure. More often than not he was away. Leaving Lita's mother to raise her until the Clan elders started Lita's training.  Unlike most Hyūga's Lita was born was Red hair and violet eyes, most seen this as a defect but because of the time she was Born she wasn't placed into the servants branches. She was given right opportunity to become a Strong Kunoichi
Lita was born and Raised in the Hyūga Complex, not normally allowed to leave the premises aside from special occasion. Until she Started going to School and training.  Lita was home schooled until she joined the academy. Lita struggled a great deal in school and at home, seeming to be the runt of the litter always. Lita found other ways to achieve her power.
When other kids were off playing at school, Lita sat in her room by herself studying if she wasn't there she was seen at the training complex. Practising her form.  By the time she was granted the Title of Genin she was one of the few at the top of her class.  She had remarkable Talent for Taijutsu ( as most of her clan did) and had a naturally Great Chakra control. She was instantly recommended to join the medical core, where she was taken under the Wing of another medical shinobi by the name of Trever   Amatsu, a Young and promising Chuunin for the  Amatsu Clan one known for its heavenly healing jutsu's
During her Medical training and the time spent training with the elders. Lita had found a way to combine her knowledge for the human body and her Taijutsu Skills. Allowing her to have an Edge over most of the Hyūga's her age.  When in a sparring match Lita injured a fellow Clan mate and put him into critical condition with a very Lucky Strike.  Her hands shook with fear of what the elders would do. But instead of being punished for her Recklessness she was congratulated on her power. Angry that she was considered better for hurting others Lita devoted her life to being a pacifist. And if forced or commanded to fight, and even then only using just enough force to detain an enemy, and never attempting to kill anyone.
It didn't take long under his guidance before Lita was working on Real patients and helping in the battle field.  Lita was never put on any missions, and was kept in the medical Core for close to a year before the head of the Hyūga clan pulled some Strings and had her placed on a team."
Last edited by Lita on Sat Jul 04, 2015 4:16 pm; edited 2 times in total
_________________
~There are perhaps many causes worth dying for, but to me certainly there are none worth killing for~



Posts

: 19


Join date

: 2015-06-28



Since you have a clan you only start with 2 classes.
Kage





Posts

: 122


Join date

: 2015-06-26



i misunderstood Kenjutsu Specialize was Removed and my agility was corrected
_________________
~There are perhaps many causes worth dying for, but to me certainly there are none worth killing for~



Posts

: 19


Join date

: 2015-06-28



Kage





Posts

: 122


Join date

: 2015-06-26




---
Permissions in this forum:
You
cannot
reply to topics in this forum